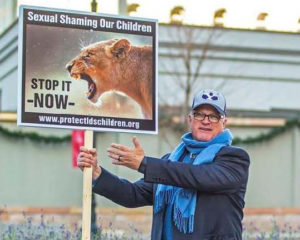 Hello, my name is Sam Young.
In the summer of 2017, I organized an initiative called Protect LDS Children.  In that year, I found out that my daughter was regularly subjected to sexually explicit questions when she was a child, from age 12 to 17.  I had raised her in the Church of Jesus Christ of Latter-day Saints (Mormon Church). This happened to my sweet child behind closed doors, all alone with the bishop of my congregation.  I wish I could go back in time and protect my innocent 12 year old daughter.  I can't.  I can stand up and speak out for the protection of today's children.   I called for the Mormon Church to end one-on-one interviews with children and eliminate the sexually explicit questions that were being posed to them.
During 2018 Protect LDS Children carried out the following actions:
Created a petition & gathered over 22,000 signatures

 

Held a march & rally in Salt Lake City which drew 1,000 participants.
Printed books of the children's stories of abuse and delivered them to the Mormon Church's headquarters.
Conducted a 23 day hunger strike along with 23 nightly broadcasts.
Garnered abundant local, national and international media attention.
All of this generated much needed awareness of the dangers that the Mormon interview practice poses to children.   The church responded with a minor but significant policy change.  Unfortunately, their children are still at great risk when compared to many other child serving organizations.
Protect Every Child
My original goal was to Protect Mormon (LDS) children.  During 2018 and early 2019, as scandal after scandal after scandal of child abuse continued to erupt, I realized EVERY CHILD is at risk.  Enough is Enough.  Adults need to stand up and shout from the mountain tops that abuse of children must stop.  We won't take it anymore.
Rather than reading of the horrors and simply shaking our heads, it's time that society as a whole flexes its powerful muscles.  Protect LDS Children has now become Protect Every Child.  2019 will see a series of actions to raise awareness to mountainous levels.
About Me
I am a proud Houston business owner and a father of 6 daughters.  Over my 66 year lifetime, I have dedicated decades of volunteer service to the Mormon Church in various roles including bishop, bishopric counselor, ward mission leader, ward young men president, stake young men president, stake public affairs director, stake activities director, high councilor, high priest group leader, seminary teacher, institute teacher and several special assignments.  From 1972 to 1974, I served a full time proselyting mission in the Guatemala/El Salvador mission.
The cause of protecting children is personal.  Unknown to me at the time, four of my six daughters were interrogated with sexually explicit questions by bishops.  
I lived my entire life as a Mormon.  In September 2018, that all ended with my excommunication.  Rather than implement the protections that our movement was calling for, the Church responded by kicking the whistleblower out.  I was willing to put everything on the line and stand up for what is right for our kids.  Although my religious affiliation has been sacrificed, I will not allow my voice to be sacrificed into silence.
Feel free to contact me at contact@protecteverychild.com.