Shaylee and Patrick Holley unfurled their banner on Monday, September 23, 2019.
They live in Sandy, Utah. Here is their story:
"We purchased the banner to unfurl at the Protect Every Child March in October, and are hanging it in our home until then (and it will resume its place in the window after the March as well).
From Shaylee:
I am joining the March

 and holding that banner

 because I know what it's like to cope with pain (mental, emotional, and physical), anxiety, and anger from being abused, and I want to do all that I can to keep the children around me from 

being violated. Children are defenseless, thus it is our duty as adults to protect them from being harmed. While adults aren't able to shield children from every pain or inconvenience of life, we are absolutely capable of keeping them safe from men & women who seek to destroy them and their innocence

. I am no longer afraid to speak out against abusers and to speak up for victims. There are a lot of people who don't understand the magnitude of this issue, the far-reaching effects it has, and I want the world to see how revolting and damaging abuse is.

 I regret that the generations before us have not addressed abuse the way they should have (rather, they hid & decriminalized abusers), but I am determined to do my part in putting an end to it.
From Patrick: 
I am marching because every child deserves to feel loved unconditionally. No child deserves to feel they are dirty, sinful, or unworthy. There is something deeply, truly wrong when a child wonders if they are going to hell. Much sadder than the child who fears hell is the child who lives it. The knowledge that any adult would ever take advantage of any child is despicable. The fact that any organization actively protects these abusers in the name of Christ, the greatest advocate for children, is vile and perverted. And so I march until all their dark crimes are brought to light, and children fear no more.

Thank you for all that you are doing, Sam.
If there is anything else that we can do to support you, this cause, and children, please let us know."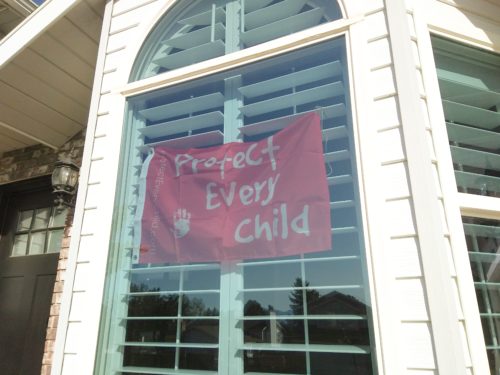 HOW CAN YOU HELP?
Sign the new Petition:
Climb a mountain, hilltop or driveway.  Unfurl a banner and share it.
Come to the March for the Children on October 5, 2019 in Salt Lake City.
THIS IS THE BIG ONE.
If we have 5,000 marchers, the national media will be all over it.
Institutions will be warned.  Huge awareness will be raised.
Children will be protected.  Past victims will take solace.
All data, information and media provided on this page are for informational purposes only. Protecteverychild.com makes no representations as to accuracy, completeness, currentness, suitability, or validity of any information on this page and will not be liable for any errors, omissions, or delays in this information or any losses, injuries, or damages arising from its display or use. All information is provided on an as-is basis. Photos and identifying information are used with permission.
Note: This post may contain copyrighted material the use of which has not always been specifically authorized by the copyright owner. This presentation is making such material available in an effort to advance understanding of religious and social issues. This essay presentation is a Creative Commons work – available for free in the public domain – of criticism, commentary, research and nonprofit education and thus constitutes a 'Fair Use' of any such copyrighted material as provided in the United States Copyright Act of 1976, 17 U.S.C. § 107.